About This Site
This site is a personal site presenting my own views. The thoughts here do not represent Netflix's views, even though I may end up talking about various Netflix-related things from time to time.
The blog is meant to capture my random thoughts on a range of topics, including technology, my daily observations, and things in my life that I want to share with the world. In addition to my thoughts, I will also share my photos, some of which are randomly displayed in the header image.
I will not respond to comments about the Netflix API on this site, unless the comment directly applies to other material on this site.
About Daniel Jacobson – Professional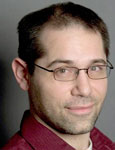 Currently, I am the VP of Edge Engineering at Netflix, including the API, Playback functionality and a suite of tools to support handling traffic from all devices from all Netflix users.  For more information about what my teams are doing, you can find various presentations at my SlideShare site.
Prior to Netflix, I was the Director of Application Development at NPR. As such, I lead the development of everything functional for NPR's digital properties, including NPR.org, the NPR API and mobile platforms, as well as other presentation layers and supporting CMS's and applications. I was the co-creator and frequent contributor to the Inside NPR.org blog and also contributed to the All Tech Considered blog. I worked at NPR for almost 11 years.
I also published a book through O'Reilly a while back, called "APIs: A Strategy Guide".
About Daniel Jacobson – Personal
When not in the office or slavishly responding to emails on my iPhone, I am also a father, husband, drummer and occasional photographer. Pictures of my family and my explorations can be found here. To hear some of my music projects, go to my music page.